"Games of the winners» 2015
29.06.2015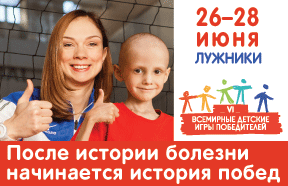 At the Sports Palace "Luzhniki" from 26 to 28 took place on June «VI Games of the winners."
One of the protagonists made 
Table Tennis Federation of Russia,
 take part in the organization and conduct of the festival.
Start Line Company, it is a permanent technical partner of the "Games of the winners" and annually provides the professional tennis equipment.
June 26 at 12:00 in the arena held a grand and incredibly colorful opening ceremony of the competition.
The hall was completely filled with children, and with them attended their parents, counselors and teachers who were literally delighted stunning holiday atmosphere of sport and life!
Immediately after the opening of the competition started in different sports, among which, of course, was and table tennis.
Competitions served strongest referees in our country.
Opened the table tennis competitions double world champion volleyball Catherine Gamowa.
At the Games were about 500 children who had cancer.
The program of games:
26 of June
12.00-13.00 Opening ceremony of the VI World Children's Games winners
13.00-18.30 Competitions: shooting, table tennis
17.00 - 18.00 Football match "Stars against their parents"
19.00 - 20.00 Award Ceremony
20.00 - 21.00 Concert of IOWA
27 of June
11.30-18.30 Competitions: athletics, football
17.00-18.00 Meeting with Olympians
19.00- 20.00 Awards Ceremony
20.00-21.00 Presentation of Upsala Circus (Luzhniki)
28 of June
11.00-16.30 Competition: chess, swimming (the Palace of Pioneers, Sparrow Hills)
17.00-18.00 Award Ceremony
19.00-19.30 Closing ceremony of the VI World Children's Games winners
19.30 -20.30 Concert of "Bravo"
Address: Luzhnetskaya naberezhnaya. 24, Metro Sports, Vorobevy Hills.
Entry free!